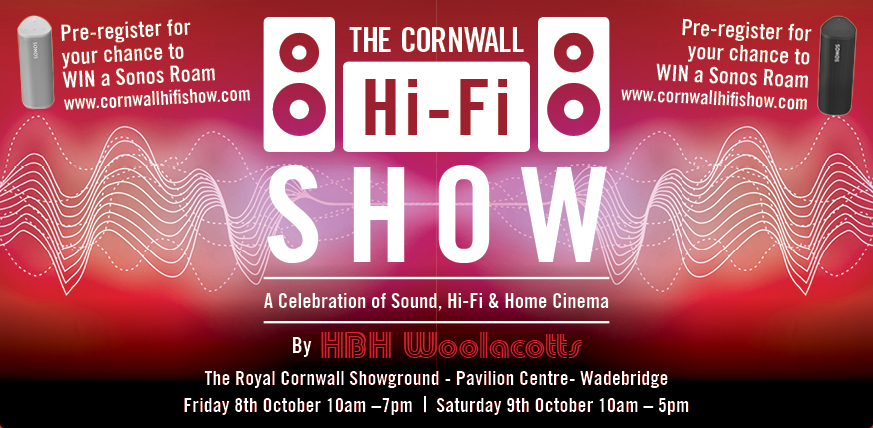 THIS WEEKEND!
FRIDAY 8th & SATURDAY 9th OCTOBER HBH Woolacotts are delighted to announce the return of the Cornwall Hi-fi Show
following a year off due to Covid restrictions.

A true celebration of Hi-fi, Home Cinema and Luxury Audio, this year's event promises to deliver a feast for the senses with products ranging from traditional 2-channel electronics, speakers and audio to Sonos multiroom systems - as well as a range of the latest TVs including OLED and Large Screen Laser TV from Sony, LG, Panasonic and Hisense. The eclectic mix of products will ensure that there is something there to suit every customer, from the technophobes to the audiophiles and every in between.
THANK YOU FOR YOUR INTEREST
The pre-registration form is now closed.
We would still love to see you at the Hi-fi Show this weekend,
so please still join us at this free event.
The Cornwall Hi-fi Show is home to Cornwall's ONLY Premium Hi-fi Show hosted at the
Royal Cornwall Showground by HBH Woolacotts Wadebridge. This year's show will also be
the UK's first public showing of a number of brand new product releases from premium audio
brands, along with live demonstrations, and discounts exclusively to the show.
We can't wait to welcome everyone to the Pavilion Centre at the
Royal Cornwall Showground, Wadebridge, on 8th and 9th October.


Telephone HBH Woolacotts Wadebridge: 01208 816155


Our top quality audio brands at the show include...
Kef, Monitor Audio, Arcam, Cyrus, Roksan, Ruark Audio, Sonos, Panasonic, LG, Sony,
Hisense, QED, Musical Fidelity, Q Acoustics, Dali, Leema Acoustics, SolidSteel, Ricable,
Mian, Rel Acoustics, Elac, Technics, Yamaha, Acoustic Energy, Hifi Racks, Henly Audio,
Ortofon, Klipsch, Pro-Ject Audio, Blok